Towed Mower Bonino for ecological management of green areas.
Towed Mower RANGE DG
Designed and built for the maintenance of large green areas, parks, airports, etc.

"Taarup" type shredder and trailer. Maximum maneuverability and compactness.
1 axle.
Load capacity 23 m3
Demanded power hp 60
DG 50
2 axles.
Load capacity from 27 to 30 m3
Demanded power hp 70/80
DG 60 – DG 70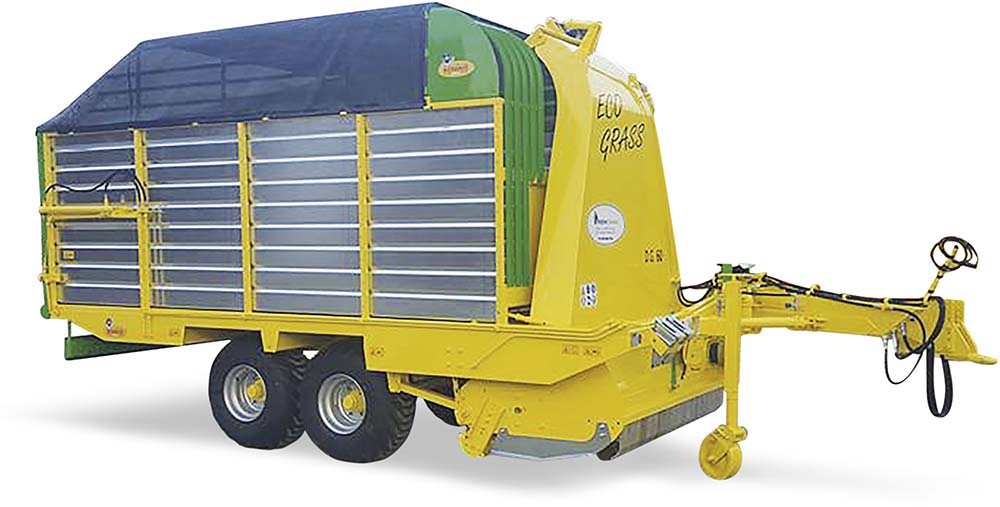 FRONT MOWER GROUP
With cutting height adjustment from 20 to 150 mm. Product direct input in the back container.
WORKING POSITION OF THE MACHINE
Compared to the tractor, the machine can work in a central or lateral position, according to the characteristics of the place in which it operates.
SETTLING AND UNLOADING CARPET
It is driven by a hydraulic motor and allows a regular discharge of the product.
HYDRAULIC MOVEMENTS CONTROLLED BY THE TRACTOR
All the hydraulic movements are directly controlled by the tractor by means of flexible controls which act on the hydraulic distributor assembly mounted on the machine.
On request, electro-hydraulic direct control system by means of an electric panel.