Bonino Forage Wagons for the distribution of grass silage and corn, shredded and loose hay.
Forage Wagons RANGE CB
They guarantee the mixing and distribution of any type of product for livestock feeding.
1 axle.
Capacity 8,5-10 m3
CB 450 – CB 500
2 axles.
Capacity 11,5-12,5 m3
CB 600 – CB 700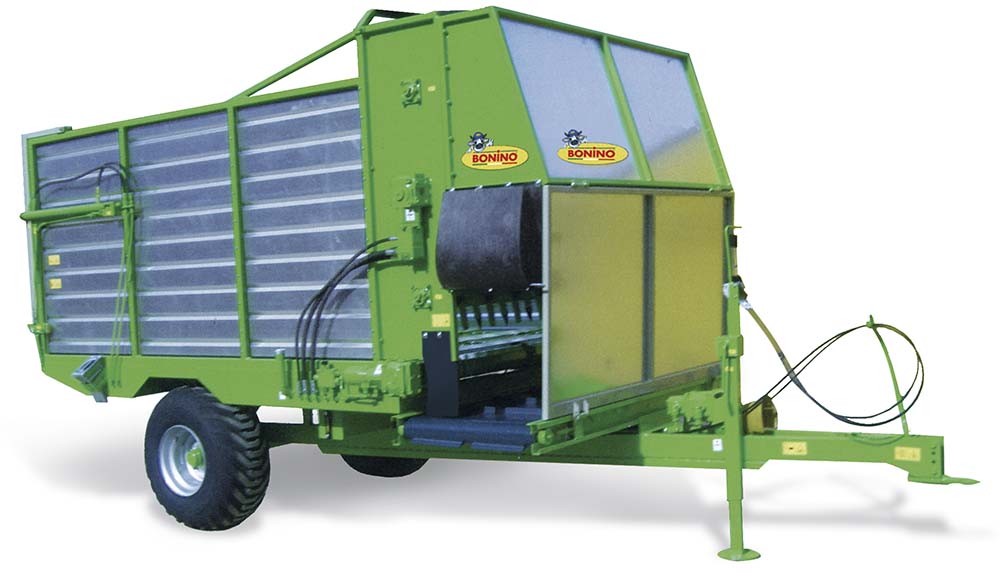 BILATERAL FRONT DISCHARGE MAT
ON REQUEST, BILATERAL REAR DISCHARGE
REAR HYDRAULIC OPENING DOOR SYSTEM
Settling and unloading carpet, driven by a hydraulic motor, allows you to operate in both directions and supply the product to both exhaust systems.
HYDRAULIC MOVEMENTS
All the hydraulic movements are directly controlled by the tractor by means of flexible controls which act on the hydraulic distributor assembly mounted on the machine.
On request, electro-hydraulic direct control system by means of an electric panel.
HYDRAULIC OPERATING ORGANS
All the parts are hydraulically actuated. The hydraulic system is totally independent and is driven by the tractor's PTO.
TECHNICAL SPECIFICATIONS FORAGE WAGON RANGE CB