Bonino's towed forage harvester load the grass on the wagon and automatically distribute it in the manger of the stable.
Towed Forage Harvester MB RANGE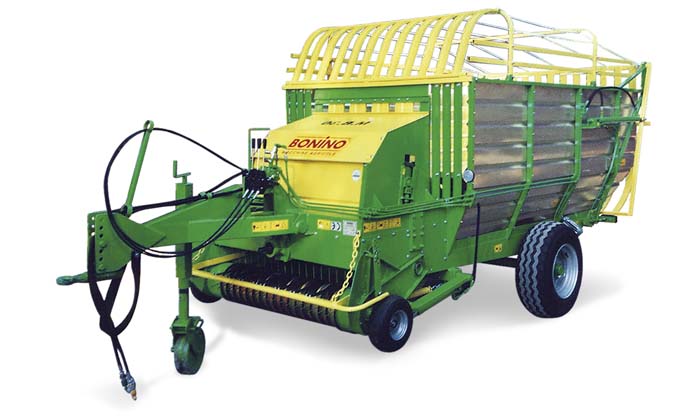 For small farms.
Load capacity from 13 to 16 m3
Demanded power hp 40/50.
MB 30 – MB 35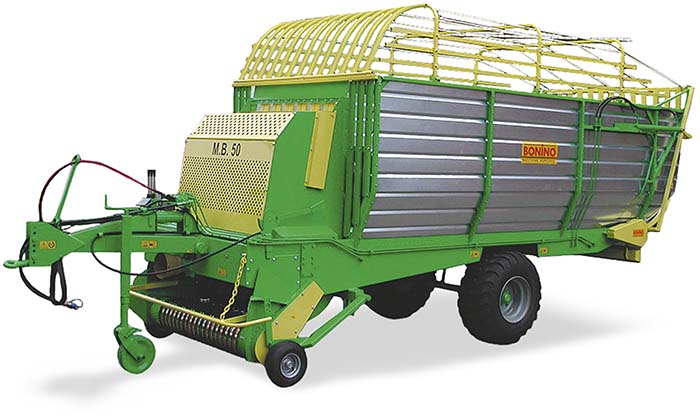 For medium and big farms.
Load capacity from 19 to 48 m3
Demanded power hp 40/80.
MB 45 – MB 50 – MB 60 – MB 70 – MB 80
PERFECT FOR HAY AND SEMI DRY
The loading system is designed specifically to not compress the product and keep it ventilated.
Therefore it is particularly suitable for hay and semi-dry.
RANGE
It includes wagons with self-loading chain ladder for small and medium-sized farms, and wagons with self-loading chain ladder for medium and large farms.
SELF LOADING CONVEYOR WITH CHAINS
The conveyor gently conveys the product into the rear container, without compressing it and keeping it airy. The ladder is designed to assembly seven knives.
PICK-UP ADJUSTABLE
The height-adjustable front pick-up allows a homogeneous collection of any product on any type of terrain.
SETTLING AND UNLOADING CARPET
It is driven by a hydraulic motor and allows a regular discharge of the product.
HYDRAULIC MOVEMENTS CONTROLLED BY THE TRACTOR
All the hydraulic movements are directly controlled by the tractor by means of flexible controls which act on the hydraulic distributor assembly mounted on the machine. On request, electro-hydraulic direct control system by means of an electric panel.
TECHNICAL SPECIFICATIONS TOWED FORAGE MOWER RANGE MB